Robert S. Young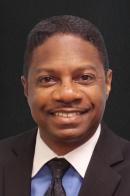 Account Executive

"I got into recruiting to connect the right people with the right opportunity, to drive value and make a true difference in people's lives. There is nothing more rewarding from a career perspective than knowing you have the ability to help others."
This Tennessee native is a proud graduate of LeMoyne-Owen College in Memphis, Tennessee with a B.A. in Business Administration. Right after college, he started his professional career in sales.

Prior to joining Management Recruiters of Nashville, Inc., Robert spent many successful years in the Pharmaceutical Industry. His accomplishments include several awards as a Sales Representative, Specialty Sales Representative, Territory Business Manager, and Account Manager in varying disease states in multiple geographies.
After several years of selling, he moved into recruiting in the Home, Health, and Hospice sector. He exhibits a strong work ethic and a passion for success.
In his free time, he likes to spend time with his family. He is also a huge fan and supporter of the Tennessee Titans and Memphis Grizzlies. Robert's motto is the same for his personal life as his career….."Work hard first, then play hard…take advantage of all life has to offer."
Back To Top