Lauren C. Madachik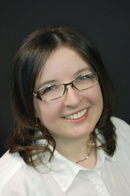 Receptionist

"Treat others with respect and kindness and you have made an impact on the world. By taking that philosophy with me each and every day, I try to show our company in a positive light, with our clients and candidates."
Lauren was born and raised in North East Ohio. The youngest of six children, she learned to fend for herself through kindness. She has called Murfreesboro, Tennessee home for over a decade and considers herself an integral part of helping others to have a positive experience with Management Recruiters of Nashville. She is the first voice you hear when calling our company and to many she is the voice that leaves a lasting impression.
Before joining us, Lauren had 15 years experience in Office Administration. She has artistic sensibility as well, which drove her to obtain an Associates Degree in the Sciences of Digital Photography. One of her next goals is to continue her education and receive a Bachelors Degree in Literary Studies.
A self described "people" person, Lauren enjoys spending time with her family whenever the opportunity arises. Her passion for photography has taken her to a variety of interesting venues. She is an avid reader who enjoys both fiction and non-fiction and has an insatiable desire for continued learning. Lauren's pleasant and endearing personality brings a bright spot to her fellow employees each and every day. Her help and assistance is very much appreciated by all.
Back To Top